Use this form to:
Filter for specific customers, print Labels / barcodes for the selected customers.
Do Bulk Changes. Click on the Bulk Change Selected tab to see what can be changed.
Analysis Tab. Get a summary of the detail data. Pivot Grids.
Go to: Customer > Extended Lookup
To see how lookup forms work see Customer > Lookup and Application > Lookup.
Hover the mouse over the different fields on the form. If the cursor changes to a hand (

) , click to get more information.

Some of the reports you can get from the Grid Reports
Accounts opened this month.
Use the date opened column and filter for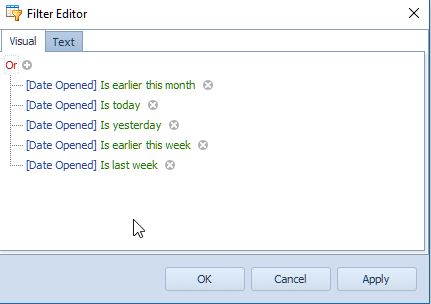 See also the First Invoice Date column for the date of first purchase.
Active clients who did not buy anything this month.
Loyalty Cards that expires this month.
All customers whose birthday is this month.
Analysis Tab
Accounts Opened Each Year

Employee Pipeline Information