Go to Company > Data Health & Maintenance
Hover the mouse over the different menu options. If the cursor changes to a hand (

), then click to go to the subject.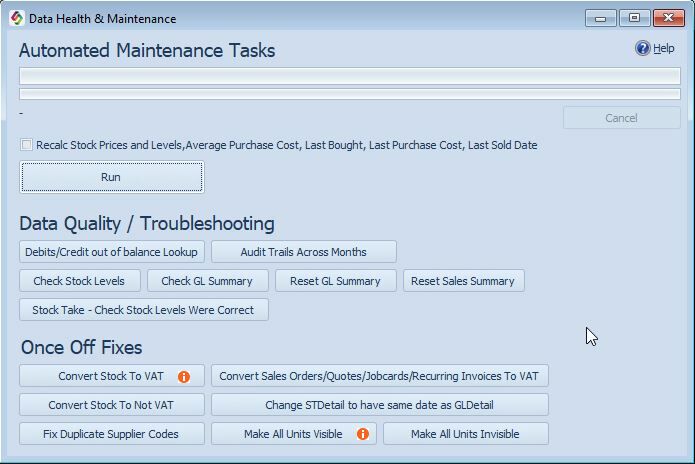 •Recalc Stock Prices and Levels.ReCalc Average Purchase Cost from stock Detail - Refreshes all of the data. It may occur that multiple changes have taken place and the system does not refresh its data.
• It will also reset the Image Checkbox in the Extended Item Lookup form
Data Quality
•Debits/Credit out of balance Lookup - This information is taken from the General Ledger, there may be entries which need to be corrected
•Reset GL Summary - Used when a GL correction in a grid has been done.
•Make all units Visible/invisible - There maybe some stock items which have not been marked as visible and can't be seen on the add item on invoices/sales orders/ quotes and job cards. See also Show On Invoice
Once Off Fixes
Please read Tax (VAT) Conversions first.
This is used for e.g. in the situation where your company was not VAT registered, and has since become VAT registered.
•Convert Stock to Vat - Your average cost and supplier list price will now be changed to Value / 1.14.
•Convert Sales Orders/Quotes to VAT - all previous quotes/sales orders to include VAT
Please note that when using any of the once off fixes, you will be required to request a day pass, as these changes are not to be used lightly.