Go to Ledger > Corrections for general ledger,customer, invoice, credit note and purchase corrections as well as date corrections.
Hover the mouse over the different menu options. If the cursor changes to a hand (

), then click to go to the subject.



The easiest is to open the GL Detail and then search for the entry that needs to be corrected. Right click on the row and choose Correct this Account. The following form will open.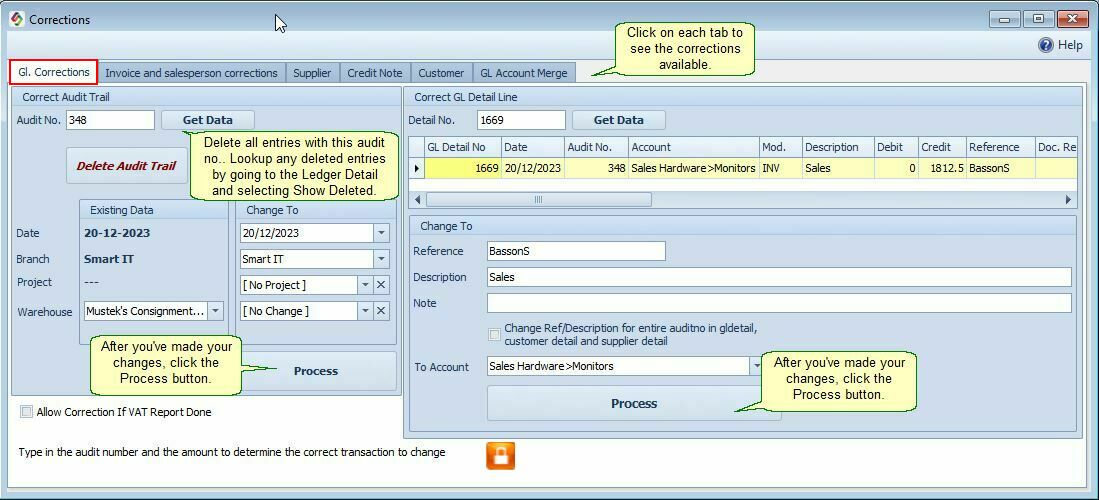 Delete Audit Trial
An Audit Trail can be deleted, by right clicking on the transaction within the general ledger details, and selecting the option Correct this account and then selecting "Delete Audit Trail".
The result will now be that if you removed an invoice from the General Ledger details, that invoice will not be visible in the invoice lookup, the same is true for GRV, Credit Notes and RTS's.
You will however have reference to anything that has been deleted (transactions & the user whom has performed this function) within the General Ledger Detail, select Show Deleted
Click on each tab to see corrections available.
Some of the corrections available:
Change a transaction from one ledger account to another ledger account.
Merge general ledger accounts.
Change dates.
Change invoices between customers.
Change representatives between invoices.
Change purchases from one supplier to another.
Change credit notes between customers
Delete entries
You can Lookup any deleted entries by going to Ledger > Ledger Detail and select Show Deleted.
Do not delete or change the account if the VAT or Bank Reconciliation was captured.
This can have wide ranging implications, especially for the VAT.
Changes and deletions will be blocked if the VAT for that entry was captured or if the bank was reconciled.
Remember you can totally reverse any journal entry.
E.g. Go to customer journal and click on completed

All the completed journals will now show. Open the journal you want to reverse by double clicking on it and then click on the reverse button. You can't reverse an entry if the VAT was already captured.
Merging Accounts.
Sometimes you have two accounts that should be one. For instance, you may have accidentally created two accounts for the same purpose and posted transactions to both accounts.
Follow these steps to merge the two accounts.
Go to: Ledger | Corrections and click on the GL Account Transfer Tab
See also Invoice Corrections and Stock Items > Stock Detail for more corrections that can be made.