Watch the video - Creating and Processing Invoices (Getting Started)
Go to Invoice > New Invoice
Hover the mouse over the different menu options. If the cursor changes to a hand (

), then click to go to the subject.


Invoice options can be set by going to Invoice > Invoice Options.
To automatically open the invoice form when you log in to the program, go to Employee > Employee Lookup. Select the employee you want to work with and select between: Open Invoice, Open Only Invoice and Open Only Touch Invoice.
To use the Touch Invoice, got to Invoice > Touch Invoice
Hover the mouse over the different fields on the form. If the cursor changes to a hand (

) , click to get more information.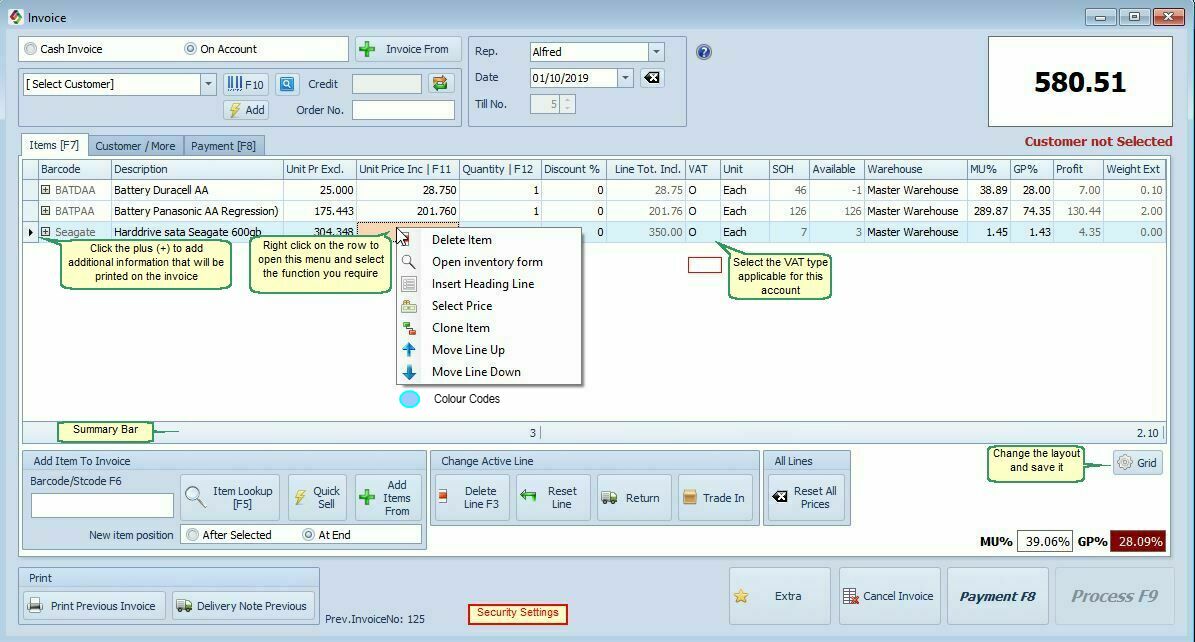 | | |
| --- | --- |
| Credit Available: | The amount of credit available will show. If you change the credit amount in the Customer Form press the Refresh Button ( ) |
| Order No.: | Order number the customer gave you. |
| Rep: | Salesperson (Representative) who sold the item. Default Rep. can be set under Invoice Options |
| Message: | See the line below the Amount Field. (Top right hand corner) |
| Barcode F6: | To add an item to the invoice, scan the item barcode or type the stock code or scan/type the serial number. The stock lookup will automatically open if you typed in only a part of the code and the cursor will be placed in the Barcode column. You can specify in which column the cursor must be placed, go to Invoice Options and select the column from the Stock Lookup Default Column. |
| Payment F8: | To accept and allocate payments. |
| Process: | To process the invoice. |
| Cancel Invoice: | To cancel the invoice |
| Item Lookup F5 | Click to search for an item. |
| GP%, MU, Profit | To show or not to show, go to Invoice > Invoice options |
| Quick Sell | Select and add all your Quick Sell items |
| Till No. | Till no. allocated to this computer. To change it go to Invoice Options and select the Assign Till Numbers tab. |
| Return Button | If an item is returned, add it and then select the Return Button. The line item total will now show as a negative amount and the stock will be returned to the inventory.Stock item can also be created as a trade in. |
| Add Items From | Combining items from a quote/sales order/job card onto a single invoice for a specific customer. |
This function is used as a quick lookup for the most popular items you sell, instead of having to look it up on the inventory form. On your Main Item Form go to the additional info tab and mark the quick sell box.
On the invoice select the quick sell button, and the items you have selected to be quick sell will be listed here as well as a picture of the item you have attached. See below.
Invoice Security Settings. See also Application > Security Setup