Add and configure the users/employees whom are allowed to access the company file.
Go to Employee > Add Employee
Hover the mouse over the different menu options. If the cursor changes to a hand (

), then click to go to the subject.



To edit information of an employee go to Employee > Lookup and right click on the employees' name whom you wish to edit.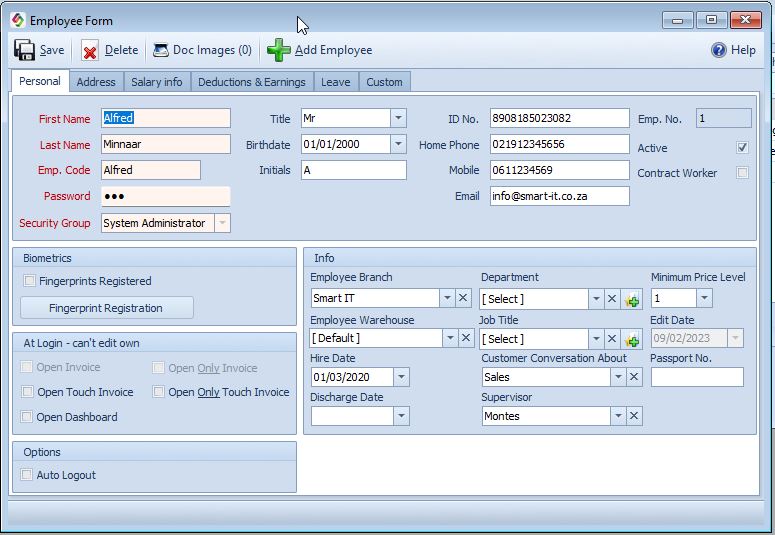 All fields marked in red must be populated (compulsory fields).
Password

Please remember to give each employee a Password and link them to a Security Group. Employees can change their passwords at a later date by going to Employee > Change My Password.

How can I reset my lost password.

On the log in screen, double click the SI+ logo. It will now ask for a day pass. Please contact Smart IT to get the day pass.

After you type in the day pass you can go to employees and change the password.

At Login

You can setup which forms should automatically open when the employee logs in.

For example : If the Invoice form must open after login - check the Open Invoice Checkbox.

Tick the Open Only Invoice Checkbox if you want to disable the menu options.

Tick the Open Dashboard Checkbox if this employee has permission to see the dashboard.

Tick the Open Touch Invoice if the Touch Invoice must open automatically after login.

Tick the Open Only Touch Invoice Checkbox if the Touch Invoice must open automatically after login and you want to disable the rest of the menu options

Info Block

Description

Customer Conversation About

If you add a conversation in the Main Customer Form the About Column will automatically reflect this selection for this employee.

Set the About fields in Company > Extra >Table Maintenance

Employee Default Branch

Select the Branch to which this employee belongs. This option is used in conjunction with the multi-warehousing module. If this employee does any invoicing, journal entries etc. this branch will be selected by default.

Employee Email Address

This email will be used to send out pay slips.