Can see server but can't connect or network error.
Remember that in most instances it is sufficient to restart the computer and try the operation again.
Can't install .Net Framework 4
Download the fix from http://support.microsoft.com/kb/971058#LetMeFixItMyselfAlways
I can see the server but can't connect to the server or if you get a network error.
The reason is your firewall do not allow the connection to the server.
Test it by turning the firewall off.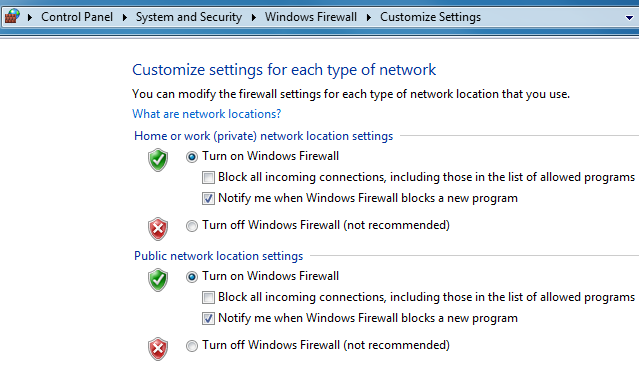 Next go to " allow a program or feature through windows firewall "
You must allow Smart-it and Firebird through. See images below. Remember to click on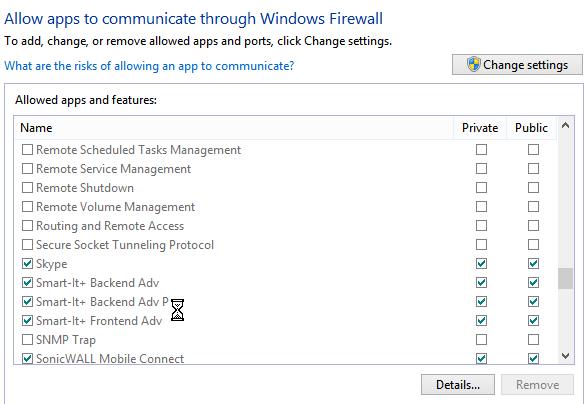 Location of the files:
C:\Program Files\Smart-It+ 2.0\Backend\BackendService.exe
C:\Program Files\Smart-It+ 2.0\Backend\dbserver\bin\fb_inet_server.exe
C:\Program Files\Smart-It+ 2.0\Backend\dbserver\bin\fbserver.exe
Ports used:
TCP: 55503, 55504 UDP: 55502
Firewall.
Firewall or anti-virus software may show alert dialogues related to this installation. Please allow any Smart-It programs to proceed if you see one of these alerts by selecting an option such as:
-Unblock
- Yes
- Allow
- Permit
Some configurations may require that you adjust settings in these firewall and anti virus products to ensure the best possible performance with SI+.
Configure your firewalls so that they do not interfere with SI+. An incorrectly-configured firewall can stop SI+ from working.
Network Error
Make sure that your Firewall give access to Smart-It.
Try typing in localhost in place of the server name.
Small Business Server 2003 -- SBS 2003
Please make sure that you have installed service pack 2 for business server 2003 otherwise .Net Framework 4 won't install
When I try to login to the Server, it searches and then says, the Operation has timed out.
or you get a message that says: Unable to complete network request.
This problem can manifest itself when the internet goes down.
First try to login again, sometimes the connections are just slow.
Disable your anti-virus program. If SI+ works after disabling the anti-virus program then you know that the problem is with your anti-virus firewall settings.
Remember to check your firewall settings first.
-----------------------------------------------------------------------------------------------------------
FTP.
If you want to send a big file like your database to us, you can FTP it.
Username: siclient
Password: 2880176c
Steps to follow.
1. Copy the file you want to send.
2 Open My Computer.
In the address field type in ftp://smartit.co.za
Type in the username and password.
Paste the file.
EHLO error when you try to send an email.

To fix: Your computer name is not allowed to have an underscore in it. For example if your computer name is home_pc then you will get the error. Change the name to home-pc.