---
You use customer journals to enter opening balances, make adjustments and receipts.
Go to Customer > Customer Journals
The following screen will open.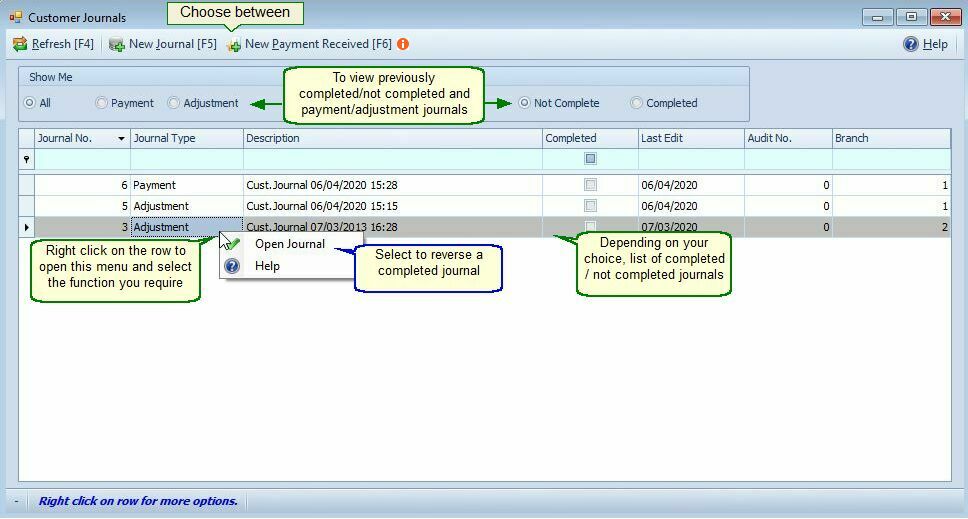 Use New Payment Received only for money that was directly paid into your bank account. For all other customer payments use the Customer Receipt option. You can also do a direct bank payment from Customer > Receipts

| | |
| --- | --- |
| Menu Items | Description |
| Post | Transferring the entries in the journal into the general ledger accounts. |
| Save | Save the entries without posting them to the general ledger. |
| Delete Journal Batch | Delete this batch. |
| Check for Errors | Check for errors on this form. |
| Reverse | If this was a previously posted batch then the Reverse button will be highlighted, and the batch, which you want to edit or delete will be opened. |
| Import | To import the journal via Excel. |
| Print | To print the journal. |
| Print On Post | The journal will automatically print when you Post the journal |
| | |
How to do a refund.
E.g. the customer paid a deposit for goods and you want to refund him.
You can refund the client per cheque, EFT, petty cash, etc.
Steps
1 Select the customer
2 Select the account from where the money is coming e.g bank, petty cash or safe.
3 Record the amount in the Debit Column.
See also Corrections
See also Customer Receipts