Go to Supplier > Lookup & Reconciliation
The lookup screen will show a list of all the suppliers already added.
Hover the mouse over the different fields on the form. If the cursor changes to a hand (

) , click to get more information.

Double click on the first column to edit an existing supplier and on the second column to allocate / reconcile the supplier, alternatively you can right click on the row..
| | |
| --- | --- |
| Right Click Context Menu | Description |
| Open the Supplier Form | To edit the supplier information. |
| Reconcile the Supplier | Either the Supplier Reconciliation or Pay per Invoice Reconciliation Form will open, depending on the Recon / Payment Allocation type as set in the Supplier Main form. |
| Help | To open the user Manual. |
Bulk Change Selected.
The following bulk changes is available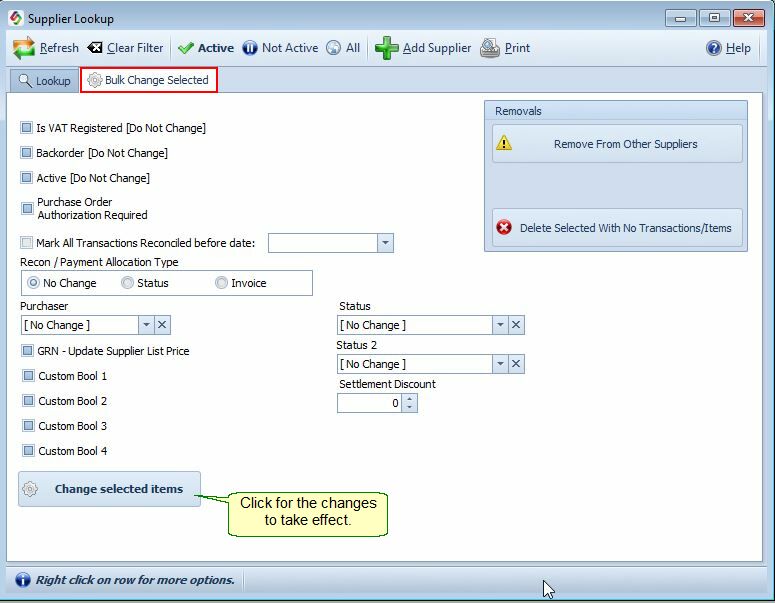 •Select all the suppliers you want to change (on the Lookup tab) then select the Bulk Change Selected tab.
•Select what you want to change.
•Process Global Change to process the changes.
| | |
| --- | --- |
| Fields | Description |
| Is VAT Registered | For e.g if you want to change the selected suppliers to not registered for VAT, click the checkbox till it shows (unchecked) |
| Back order | If the supplier keeps back orders you must check this box. Purchase orders and GRN's will be handled differently. Partial ordering will be allowed See also Stock > Purchase Order |
| Mark All Transactions Reconciled before date | See the Supplier Reconciliation |
| Remove From Other Suppliers | Remove the suppliers with no transactions that is linked to the Preferred Supplier |