The Customers window contains records of all the customers with whom your company does business.
Filter for specific customers, do bulk changes, edit the customer, print the customer statement, etc. see below.
Go to Customer > Lookup
Hover the mouse over the different fields on the form. If the cursor changes to a hand (

) , click to get more information.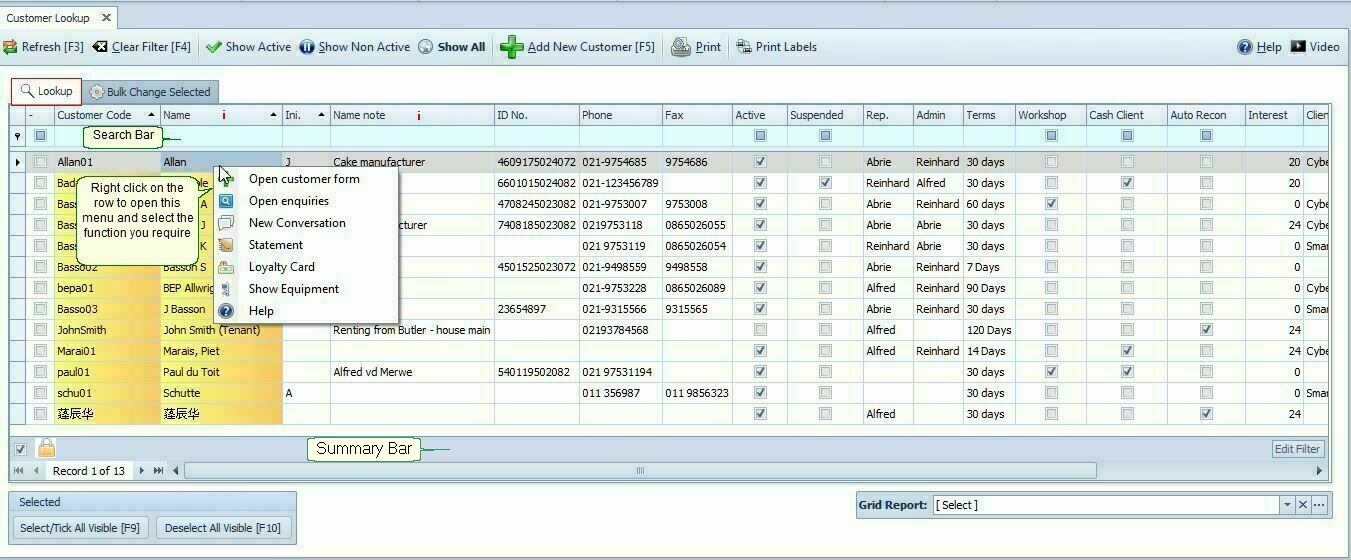 Menu Items

Click on the different buttons to get help.

Bulk Change Selected tab

Click on the Bulk Change Selected tab (see image above) for help.

Please note you can also do Bulk Changes in the Extended Lookup form

Print Labels

Will print a label for each customer. You can print labels for specific customers by using the Select Visible button or select the customers by hand in the Row Select Column






Right Click Menu




Open Customer

Open the selected customers data for editing.

Open Enquiries

See the transaction detail, balances and you can do allocations.

Statement

Print the customer's statement.

Loyalty Card

Show points earned and from which invoices

Show Equipment

Equipment linked to this customer, you can also add new items.
Please note
That only the Active Customers are listed in the grid. Click on the Show All [F3] Button to list all customers.
Double click the first column to edit the customer and the second column to go to allocations and enquiries or right click on the customer you want to edit.