Go to Stock > Stock Options and select the Purchase Order tab.
Hover the mouse over the different menu options. If the cursor changes to a hand (

), then click to go to the subject.


Usage: Design your own Purchase order report
If a purchase order needs approval you can set it on this form.
Set stock level alerts
Hover the mouse over the different fields on the form. If the cursor changes to a hand (

) , click to get more information.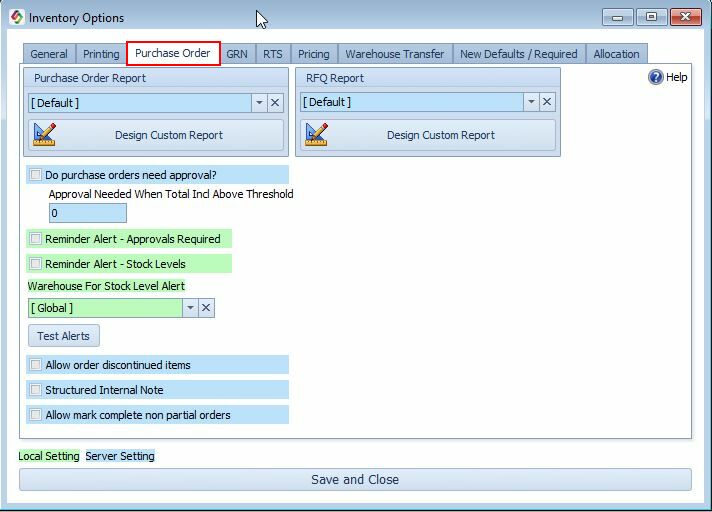 RFQ - Request a quote from your supplier.
Stock Level Alert.
Select the checkbox, this will now activate the alert which will pop up to warn you that your stock levels dropped below the reorder quantity that you have set in the inventory (stock) form.
The warning will appear as follows: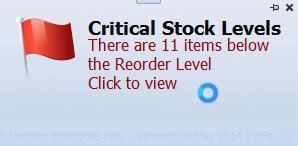 You can click on the alert to get a list of items that is below the reorder level. This is also available on the Dashboard (should you have purchased this module), however the result from the Dashboard is what the SI has calculated as critical stock, your stock alert is determined by what you have selected as your re-order value on the stock form.
Select the Do Purchase orders need Approval? checkbox to activate the function.
This is used should you wish to approve all Purchase Orders which are made out for your suppliers. For example, you have a buyer within the company, they create the purchase order, but they cannot process this. The Manager will then go into the purchase order lookup, check them and then process them. This can be set by opening a purchase order form, select your security lock in the top left hand corner, select the group whom would require approval, give full access and on the left hand side de-select the approve box – this group will now be able to create the purchase order, but not be able to process it. See example below.