Watch the video: Adding a General Ledger Account
Accounts are the backbone of your company's records, as they organize your transactions. Whether you are working with a new company or an existing one, you will probably want to add or change some accounts to suit your needs. For example, if you are starting with a template of accounts, you may want to change generic revenue accounts, like Sales Stock A, to names directly related to your business.
Go to Ledger > Accounts Setup
Hover the mouse over the different menu options. If the cursor changes to a hand (

), then click to go to the subject.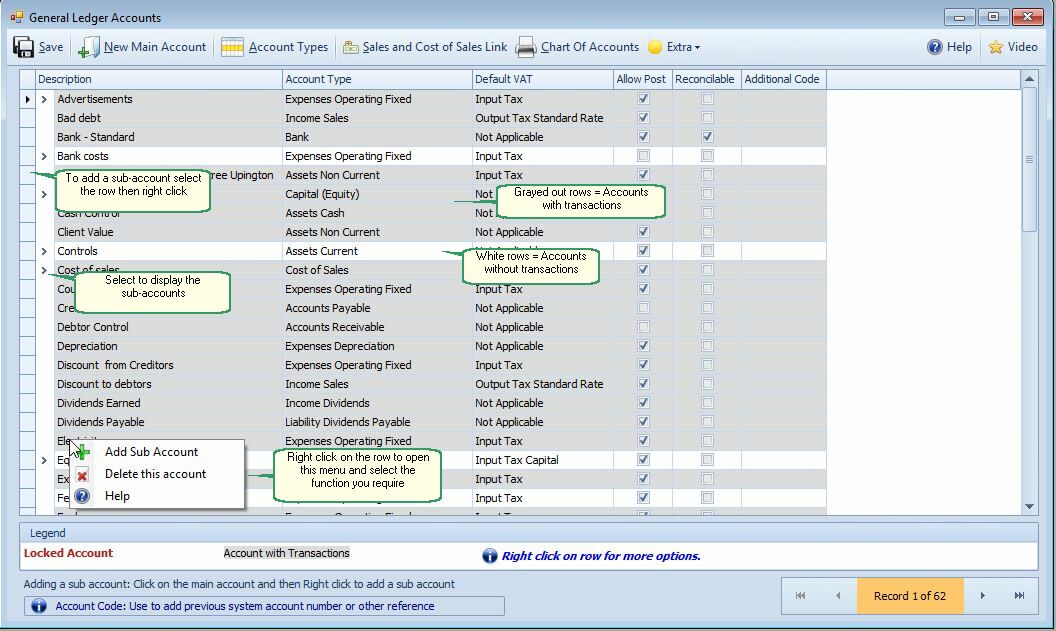 Menu

Description

Save

To save changes

New Main Account

To add a new account.

(To add a sub account, select the main account by clicking on the row (account) then right click on the row selector and select Add Sub Account)

Account Types

Select to get a list of all the types.

You can specify the print order on the trial balance by dragging and dropping the account types

Sales & Cost of Sales Link

Use this option to link a Sales account to a Cost of Sales account. This will have an effect on how your income statement will look.

Chart of Accounts

Select to print.

Help

This manual

Video

Select to watch the help video
Columns

Description

Description

Name of the account

Account type

A drop down list will be displayed, select the account type you want to use.

Default VAT

Select the VAT type applicable for this account. VAT types can be changed/added in the TAX Setup module.

SI also allows you to set default tax types for the, inventory and supplier accounts.

Allow Post

Select if you want to post to this account. Usually you won't allow journals to be posted to for e.g. the Debtor and Creditor control accounts.

If you added sub accounts to a main account, do not post to the main account if you want to use the budget module. The budget module use the main account to sum the sub-account values.

Reconcilable

Select if you want to reconcile this account to the transactions on your bank statement. Example, bank accounts, loan accounts, credit-card etc.

Only accounts that is checked will show in your Bank Reconciliation form as well as in your Cash Journals.

Additional Code

Can be used to put in your previous systems account codes
Right click actions
Remember, first select the row you want to work with by clicking on the row selector.
To delete or add an account, right click on the row selector. You won't be allowed to delete accounts that have transactions.
To sort accounts, click on the column headings.
To import your general ledger accounts select the extra tab.
Note: You can merge two accounts, see corrections.
General ledger accounts are divided into five categories and split up for reporting purposes (see below).
| | | |
| --- | --- | --- |
| | Code | Notes and Account Examples |
| Owner's Equity | | Capital is comprised of net income plus the money that the owner originally invested. |
| Capital (Equity) | Cap | Owner's equity (which includes capital investments and drawings), Opening balance equity, and retained earnings. |
| Capital Retained Earnings | CapR | Retained Earnings. |
| Additional paid-in capital - common | CapAp | Money received from investors for common stock. |
| Additional paid-in capital - preferred | CapApp | Money received from investors for preferred stock. |
| Preferred Stock | CapPS | Stock whose holders are guaranteed priority in the payment of dividends |
| Assets | | Assets represent what an individual or entity owns |
| Assets CTG | AssetCGT | Assets with a capital gains tax implication |
| Current Assets | AssetCA | Employee Cash Advances, Prepaid Expenses, Allowance for bad debts, Other |
| Accounts receivable | AssetAccRec | Accounts Receivable (Debtors). Must be used separately to correctly calculate the financial ratios. |
| Non-Current Assets (Fixed Assets) | AssetNC | Depreciable assets your company owns that aren't likely to be converted into cash within a year, such as Financial Assets, Property, Plant & Equipment, Furniture etc. |
| Inventory (Stock) | AssetI | Inventory or Stock |
| Cash Assets | AssetCA | To handle accounts payable (supplier payments) correctly as well as financial ratios |
| Intangible Assets | AssetInt | Long term: Business properties, such as brands, franchises, trademarks and patents |
| Bank | Bank | |
| Liabilities | | Liabilities represent what is owed |
| Long Term Liabilities | LiabL | Loans and obligations with a maturity of longer than one year, usually accompanied by interest payments. |
| Accounts Payable | LiabAccPay | Trade and Accounts Payable (Creditors). Must be used separately to correctly calculate the financial ratios. |
| Current Liabilities | LiabC | Liabilities that are scheduled to be paid within one year, such as sales,sales tax, payroll taxes, accrued or deferred salaries, and short-term loans. |
| Liability Leases | LiabCle | Leases Payable (current) |
| Liability - Dividends Payable | LiabCdi | Distributions of earnings to shareholders. |
| Liability - Taxes | LiabCta | Accrued income, property, and sales taxes payable to city, state, and federal governments. |
| Liability - Notes Payable | LiabCN | Money that your business owes that will be paid within a year, including bank notes, mortgages, and vehicle payments. |
| Income | | Income is money that is earned |
| Income Gain / Loss on Asset Disposal | IncAGL | The gain or loss on disposal of fixed assets |
| Income Dividends | IncD | |
| Income Dividends Foreign | IncDF | |
| Income Non Operating | IncNO | Interest Income |
| Income Foreign | IncF | Foreign Income |
| Income Not Taxable | IncNT | |
| Income Other Operating | IncOP | Rent, Prov. bad debt, Profit On Disposable Assets |
| Income Sales | IncOpSales | Income from trade. The main source of money coming into your company. |
| Expenses | | Expense is money that is spent |
| Cost of Sales | COS | The cost of goods and materials held in inventory and then sold. |
| Direct Material Cost | CosDir | Direct materials cost the cost of direct materials which can be easily identified with the unit of production. |
| Cost of Sales - Direct Labour costs | CosLab | |
| Expenses Depreciation | ExpeDep | |
| Expenses Income Tax | ExpeIT | |
| Expenses Non-Operating | ExpeNOP | Example: Interest |
| Expenses Operating | ExpeOP | An expense incurred in carrying out an organization's day-to-day activities, but not directly associated with production. |
| Expenses Other | ExpeOT | |
Rearrange Accounts by dragging and dropping. The order displayed will be used in the trial balance.
To rearrange the accounts go to Ledger > Account Setup and select Account Type on the menu bar. Click on the row and drag