All customer movements are recorded here.
E.g. all Customer Journals (CJ), Cash Payments (CP), Credit Notes (CRN), Invoices (INV), Interest, Electronic Fund Transfers (EFT).
You can also edit and change the content of the reference, description and note fields by right clicking on the row selector of the row you want to change.
Go to Customer > Customer Detail
Hover the mouse over the different fields on the form. If the cursor changes to a hand (

) , click to get more information.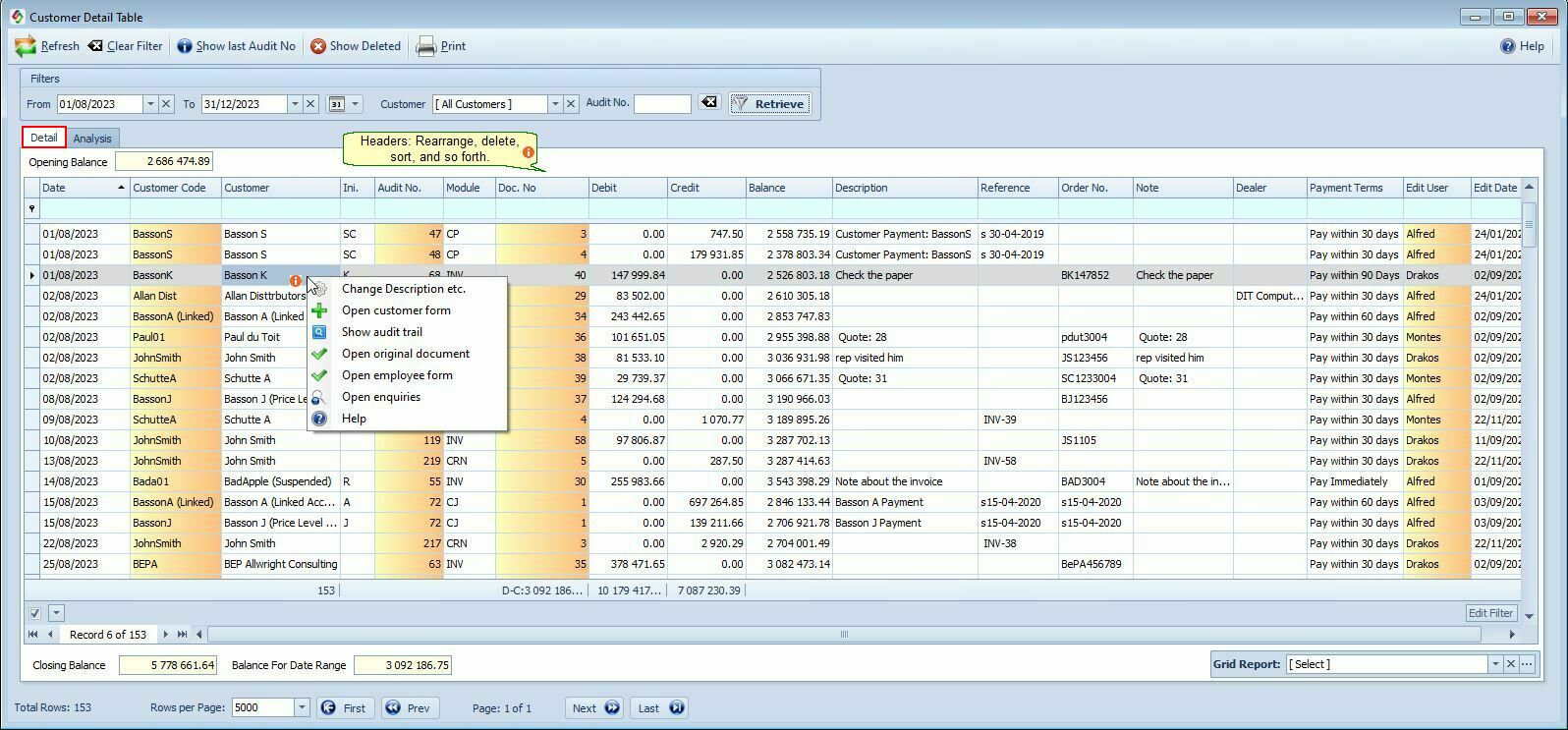 Menu Items

Menu Description

Show Deleted

All deleted entries will be listed here.






Columns

Column Descriptions

Module

The module where the entry came from.

Type for e.g CP in the search row box, to see all customer payments. Click here to see a list of all the different module abbreviations

Debit / Credit Column

Search for amounts by using the different mathematical operators. (<, >, >=, <= , <> (Is Not), =

Doc. No

The number of the document for e.g invoice no. Double click to open the document.

Right Click Menu

Descriptions

Change Description etc

You can edit and change the content of the reference, description and note fields.

See also Invoice Corrections and General Ledger Corrections

Open Customer Form

To open the form.

Show Audit trail

To display the journal entries (debits & credits) for this specific transaction.

Open Original Document

Open the relevant document, e.g. Invoice, Good Received, Credit Note etc.

Open Employee Form

Open the Employee Form for the employee who did this transaction.

See the Employee Column in the SI+ program.

Open Enquiries

Open the Customer Enquiries & Allocation Form









You can also use your Grid Report to save a report or to retrieve a report, e.g. All Payments etc.
Some reports you can get from the grid report.
•All payments made.
•All debit orders you processed.
•Interest charged this month.