Wrong database version .... You need to upgrade the database and / or server.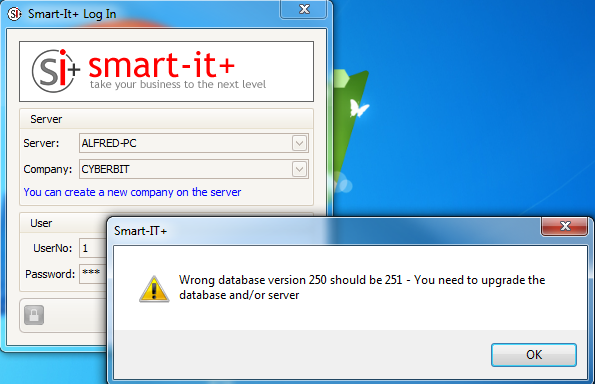 Why does this happen?
You have opened the SI+ Backend and clicked on download update, you then opened the Frontend and tried to log on before the database updates had completed.
How to fix the problem of outdated versions:
1.0 - Close the Smart-IT Frontend, ensure that the updates on the Backend are completed then try log into the Frontend again.
2.0 - Click on the Information Tab and select the Manual Database Update button - Ensure that the procedure (1.0) is followed.
3.0 - Should the problem persist, do the following: click on the Options tab, select the App Data Folder (The path is displayed in blue and can vary from computer to computer)

Once this path has been opened a window will open with the folder Files displayed therein, Select the folder named files and run the 2 programs (siBackend_Update.exe & siFrontend_Update.exe) by opening those icons. This should rectify the problem.
If you still encounter difficulty opening the front-end follow step 3.0, (on the back-end/server). Once you have opened the files folder select the program siFrontend_Update.exe - copy this file to a Memory Stick - insert the memory stick into the Frontend/workstation and then run the update from the memory stick.
There should be no further issues to content with.