Go to File > Quick User Change
Quickly change the logged in user.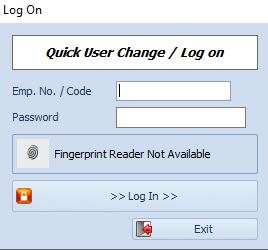 Please note that this can also be done by clicking on the User-Name on the status bar (of the Smart It program) at the bottom of the screen.
Example: click on Alfred (System Administrator) in the example, below.
Hover the mouse over the different menu options. If the cursor changes to a hand (

), then click to go to the subject.

When you leave the computer, always click on the Quick User Change so someone can not make changes in your name.