Jobs don't stand alone as an entity, they are attached to customers, and you can attach as many jobs to a single customer as you need to.
Go to Workshop > Lookup and select the Add New Job Card Button.
Hover the mouse over the different fields on the form. If the cursor changes to a hand (

) , click to get more information.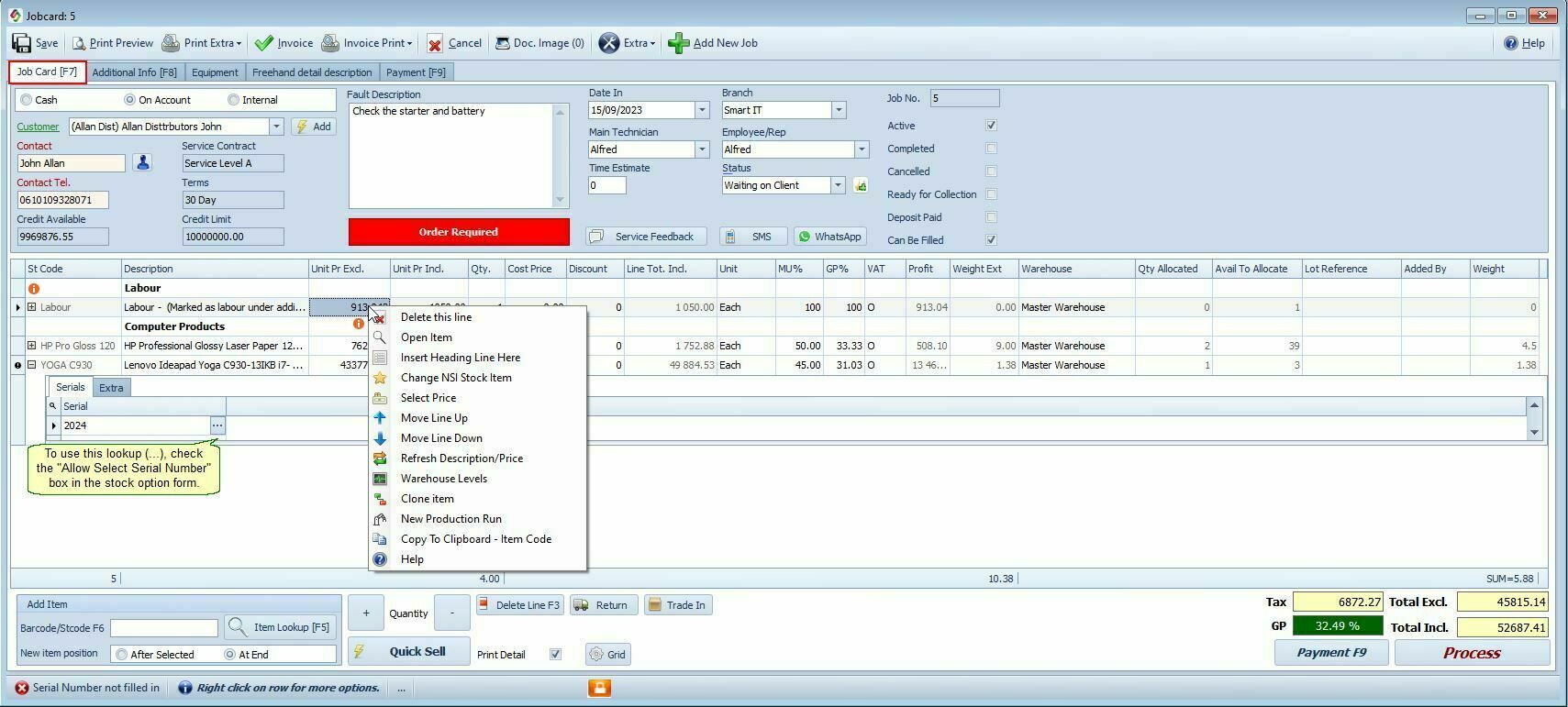 Pro Forma Invoice can be printed from the Job Card module.
Workshop > Job Card > Print Extra tab >Pro Forma Invoice
Labour Breakdown.
If an item like labour is marked as labour, you can then split it up between different employees.
Example: Employee 1 could have worked for 30 minutes on the job and employee 2 for 60 minutes.
You can also keep track of actual minutes booked and minutes worked.

For a summary report and detail, go to Workshop | Labour
Add an additional Line:
An Additional line can be added to the job card (right click on the row selector).
Adding a Heading Line could serve as an information line (this could relate to the product/service listed above the line), or could be used as a blank line to distinctively separate various stock groups.
Markup
You can manipulate prices by changing the markup % on each line.
The Maximum percentage indicator will change colour should the amount be lower than the allowed percentage. Set it in Workshop Options
Document images.
You can attach images by clicking on the Doc. Image button on the Main Job Card form. Images can be attached and send with an Invoice by setting it under Workshop > Options > Printing tab - Attach scanned images to email
Additional Info Tab: Click to add additional info such as internal notes, memos, status types, etc.
Equipment Tab: Click to add service equipment.
Freehand Detail Description Tab: You can replace the job card detail line items with this freehand typed description.
Payment Tab: To add the payment detail.
Can only view own.
View Restricted subset. (You can't see the fields)
Job Card: Profit, Markup and Cost won't show.
Job Card Detail: Average Cost won't show
Edit Restricted. (You can see the fields but you can't edit it)
Job Card: Comeback of Job No.
Delete.
Uncheck if an employee group is not allowed to cancel a job card.
Price levels on Jobcard
To select various price levels on a job card, please see Pricing Levels