The purpose of setting up Grid Reports is twofold.
1. Personalised: This allows you to create a report with information only relevant to you. This means that each department / employee will have different requirements for information within a report/lookup.
2. Exporting/Emailing or Printing a Report/Lookup: Setting up your Grid Report allows you to send only the needed information and also have it in the order you want it displayed.
You will find the Grid Report on all the lookups and virtually on all the forms like invoices, sales orders, goods received notes, etc, usually at the bottom of the page. Look for the Grid Report icon. See images below.
To save space the grid report is sometimes shown as an icon

(click to open) and sometimes as a single line.

To open click the 3 dots. The following form will open.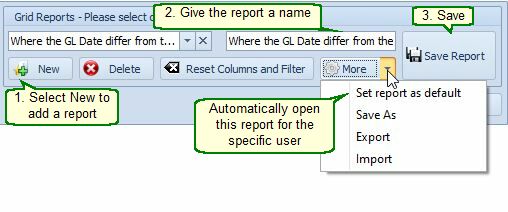 Step 1. Click on New and type in your reports' name.
Step 2. Save the report
Step 3. Design your report by using the Edit Filter, or blue filter boxes, removing columns, resizing etc. See Lookups
Step 4. Once you have the information for your tailored report click save again. You will now be able to recall this report each time you require it, giving you only the information you require.
Use the More button to set the report as default.
Each user can set his own default report. If you open a form, your default Grid Report will open automatically.