Note: There are two different methods that you can use to do the allocations. You can select which method to use on the Customer Main Form > Financial Info Tab> Allocation Type. Select between (Amount Type or Linked Type)
This report shows the invoices, payments, journals and credit notes that make up each customer's account.
This form is also used to allocate payments.
Payments you receive are allocated to specific invoices. When a receipt is received there are two methods by which it can be allocated. The first is to allocate the receipt manually. The second is to automatically allocate all accounts that's marked as auto allocate in the customers form.
Go to Customer > Enquiries or Customer > Lookup and right click on the customer and select Open Enquiries.
Hover the mouse over the different menu options. If the cursor changes to a hand (

), then click to go to the subject.




Hover the mouse over the different fields on the form. If the cursor changes to a hand (

) , click to get more information.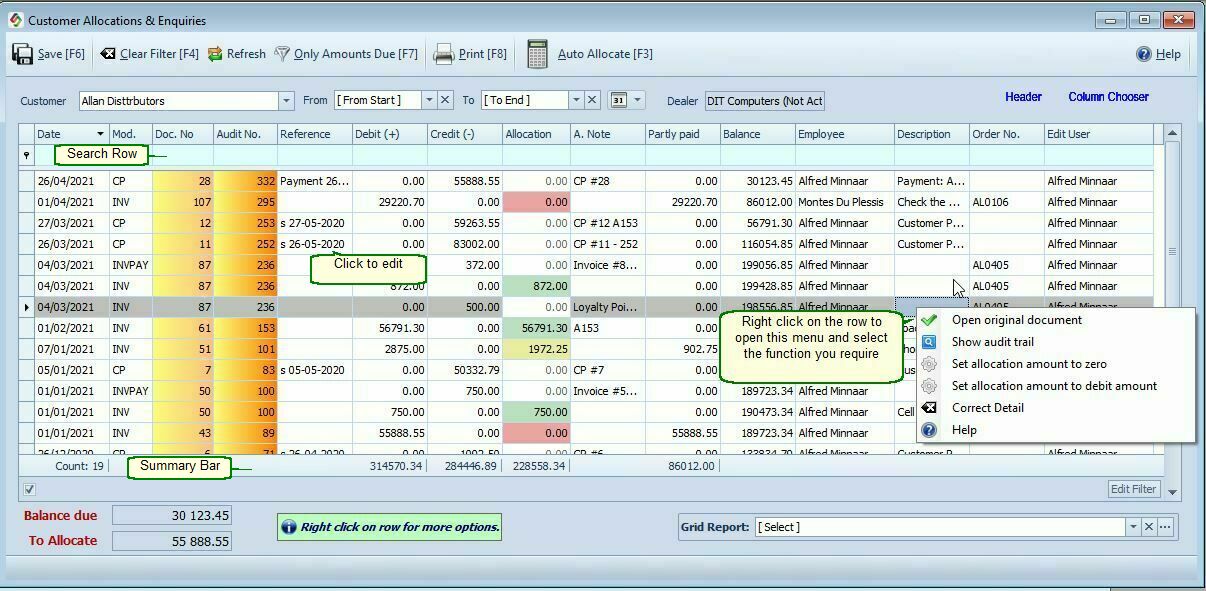 Menu Items

Description

Save

Save the data. Example, allocations you have made.

Print

Print the data.

You can hide columns, move columns, resize them, etc. to fit on a page. See also Grid Reports and Lookup Forms

Auto Allocations

Auto allocations will take all credits and allocate it against the oldest invoices.

In the example above you must still allocate R820.80. If you select the Auto Allocate button then the R820.8 will be allocated against the oldest invoice. In this instance against the R1003.20. If you do it manually then you can allocate it correctly against the correct invoice.

Allocation Notes

If you enter a payment or a credit note and you don't match it to an invoice, it is called an unmatched allocation. Unmatched allocations remain on the customer's statement until they are matched to invoices.

Allocations can be matched to more than one invoice. A customer usually makes one payment for a whole batch of invoices.

If you want to auto allocate amounts, Select the auto allocate checkbox on the Customer Form.

Clear Filter

Remove all filters (data you have searched for in the blue search row) and show all the data.

Only Amounts Due

Show only amounts that is still outstanding.

Columns

Description

Allocation Note (A.Note)

Use this column to link a specific payment to the different invoices (debits) by typing a unique number (maybe the Audit no.) in the Allocation Note field. You can then filter on this unique number to see only the payment and the invoices associated with it.

To see a list of all accounts that needed allocation, go to Customer>Statements Allocations and click on the Show Customers That Must Be Allocated button.

Partly Paid

Indicates Partial payment to an invoice and tally's up with those partly paid invoices, also indicates full payment against invoices





What happens if no allocations are done?
* The Open Item Statements won't print correct.
* If no allocations are done on an account then the Aging on the account will probably be incorrect. For example, an Invoice for goods bought in April is paid in May. If the payment is not allocated to the invoice then the aging will show as the amount outstanding in April and a credit in May. Auto allocations can solve this problem as long as you take into consideration that it won't always be 100 % correct because SI+ will just allocate it against the oldest invoices. This won't always be correct especially where credit notes are involved.