The Sales Order detail shows a list of all the sales orders and the stock items on the sales order(s).
Go to Quotes & Sales Orders | Sales Order Detail
Hover the mouse over the different fields on the form. If the cursor changes to a hand (

) , click to get more information.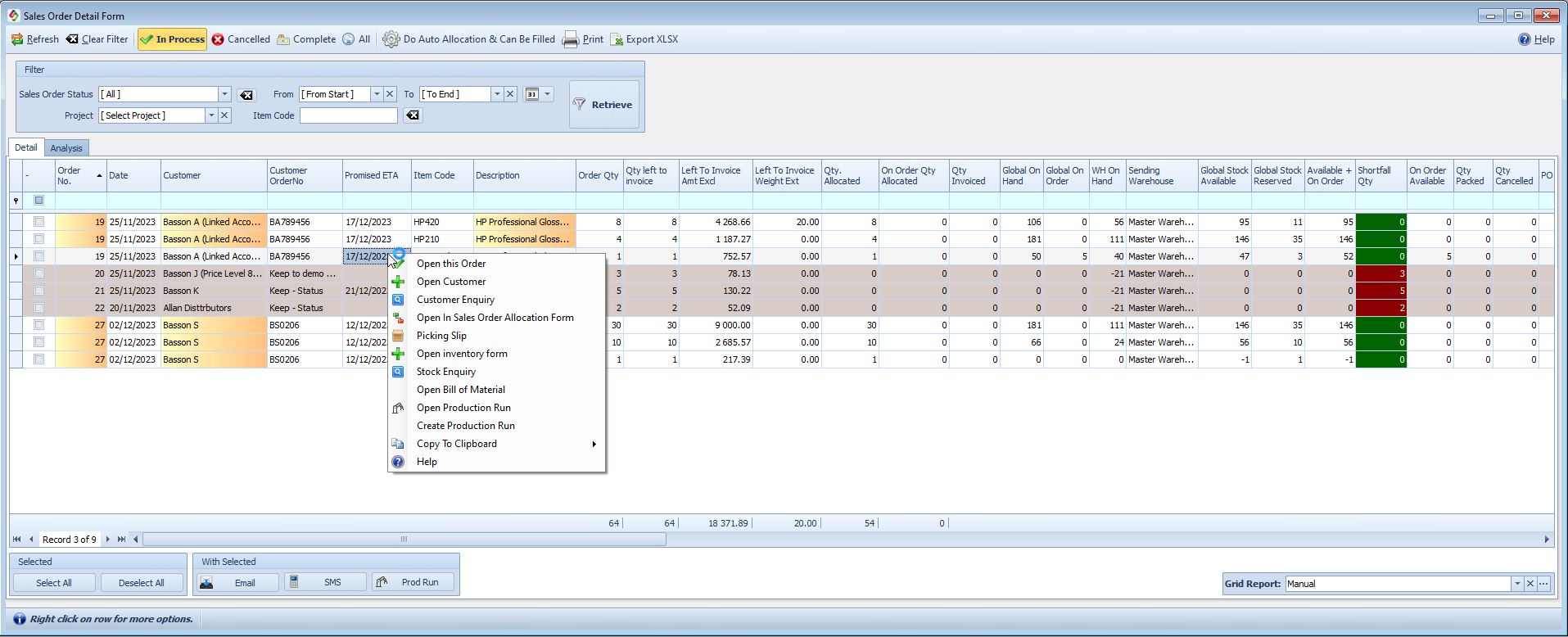 | | |
| --- | --- |
| Menu Bar | Description |
| Refresh | Click on Refresh to get the latest data on the screen. |
| Clear Filter | To clear all filters on the Sales Order detail form |
| In Progress | A filter to view all Sales Orders that is not completed |
| Cancelled | A filter to view all cancelled Sales Orders |
| All | A filter to view all Sales Orders (Completed as well as Non-completed) |
| Recalc Order can be filled | Calculate all orders that can be filled. |
| Print | To print the Sales Order Detail form. |
Display Options

Description

Sales Order Status

A filter to view Sales Orders by their Status, using the drop down menu

Note: Status: You can assign a status to a sales order. Status can be used to categorise different types of orders and in the sales order Lookup form, you can filter the orders for a specific status type. If you make use of a Webshop (PrestaShop), this status is pulled through to your Webshop when you do a Webshop Sync.

NB: If you have a Webshop (with PrestaShop) you would need to create a status on Presta Shop, for this information to be pulled through from Smart-IT.

From [Date] to [Date]

Sales Orders can be viewed by a selected date range. Remember to select the Retrieve button to retrieve the data for that date range.

Select Project

A filter to view Sales Orders linked to a specific project.

Right click on row for more options

A context menu with different options will open.
Columns on the form

Description

Follow Up

Date that you must follow up on this Sales Order.

Promised ETA

Date promised to the client..

Order Qty

Sales Order quantity

On Order

Purchase Order Quantity

PO ETA

Purchase Order - Expected time of arrival of the stock.

Stock Reserved

All items that are reserved via Sales Orders or Job Cards

Shortfall Quantity

Quantity needed to fulfill that specific order.

(Order Qty - Invoiced Qty - Cancelled Qty - On Order Allocated Qty - Allocated Qty)