Hover the mouse over the different menu options. If the cursor changes to a hand (

), then click to go to the subject.





There are 2 methods of reconciling a supplier's transactions. Select which one you want to use in the Supplier Main Form.
Method 1 - Status reconciliation - recommended option. - Method described here.
Method 2 - Invoice reconciliation - no checks and balances, recommended for very small business with uncomplicated reconciliations.
This report shows all the invoices (bills/GRV's) and payments.
Supplier statement reconciliations are one of the most important financial controls in any business. They ensure that all sums due to suppliers are accounted for and that they are only accounted for once. Without performing this control, an organization runs the risk of understating its liabilities and costs but also increases the exposure to duplicate invoices and payments.
Go to Supplier > Lookup & Reconciliation, right click on the supplier you want to reconcile and select Reconcile this Supplier, alternatively
Go to Supplier > Enquiries and select the supplier you want to reconcile from the dropdown box.
Reconciliation steps.
Reconcile the account. (See below for detail).
Print the advice note.
Process the reconciliation.
Go to the Completed Reconciliation and do the payment.
Hover the mouse over the different fields on the form. If the cursor changes to a hand (

) , click to get more information.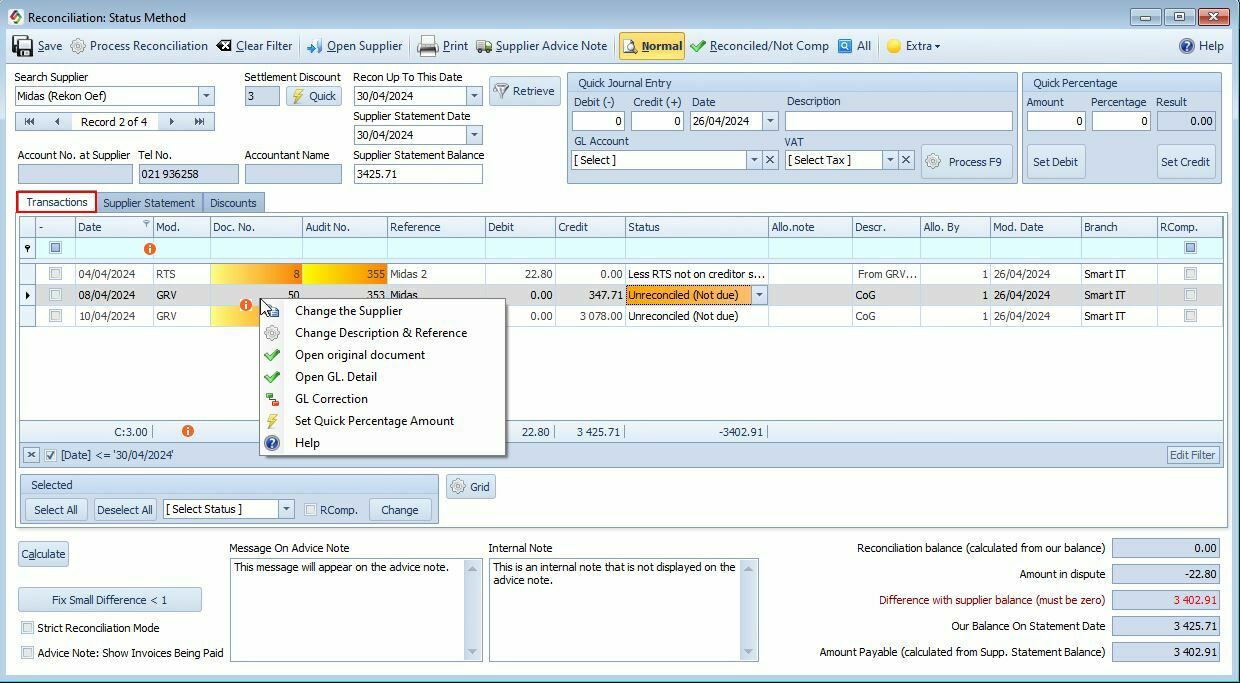 Notes:
There are not supposed to be any unreconciled entries in the reconciliation form. Change the statement date to exclude items that are not applicable for this period.
How to handle a supplier invoice which you have not received.
Option 1.
Change the supplier statement balance with this amount. Please use the 'Message on Advice Note' to make a note about the change.
Option 2
Make out a supplier journal and mark it as 'Less Goods Not Received'
See also Security Setup if you to restrict access to certain fields. Example if you do not want to change the reconciliation status and the Strict Reconciliation Mode.
See also Employees | Security Groups