Use this form to get a list of all transfers, the stage in which they are and to start a new transfer.
Hover the mouse over the different fields on the form. If the cursor changes to a hand (

) , click to get more information.


Go to Stock > Stock Extra > Warehouse Transfer Order and click on New Warehouse Transfer Order (see image below).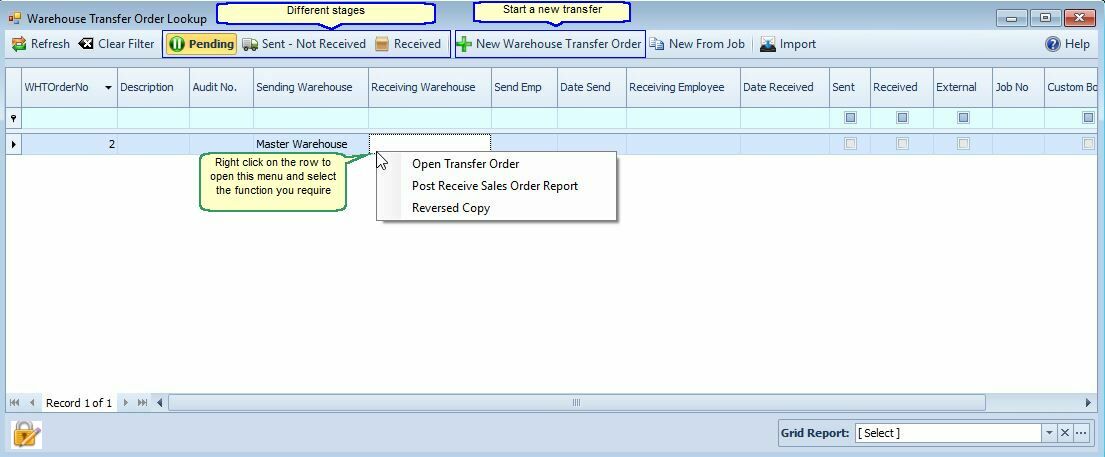 New From Job
1 For example all the stock is locked up in a storeroom warehouse.
2 The workshop employee make out a job card for the customer but he can't complete the job card because the warehouse (e.g. workshop warehouse) that he uses has no stock in it and negative stock is not allowed. Remember to link the workshop employee, in the Employee form to the workshop warehouse.
4 The workshop employee must now go to the store manager to transfer the stock from the store warehouse to the workshop warehouse.
4 The store manager now go to the Transfer Order Lookup and select New From Job and type in the job card no. All the items will now appear in the transfer order and he can transfer it from the storeroom warehouse to the workshop storeroom.
Note: you can have a warehouse for each employee if you need tighter control over the stock.