To print and capture your VAT for a specific period.
Go to Ledger > Tax Report



Choose your VAT period dates and click on Show report
Note: For example, if your date range is from March to April, any entries that were not captured prior to this date range will be added to this period.
Show Report will open the following form, if your tax system is not South African the Summary tab will open.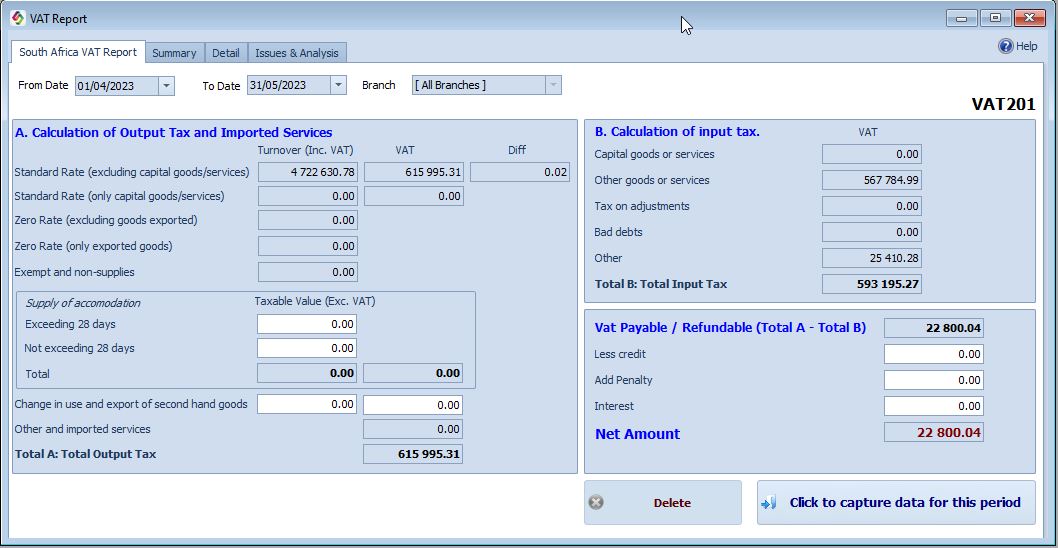 If everything is OK click on: Click to capture data for this period (see image below). This will generate a period no. for this specific capture and it will start from one. All VAT transactions will be marked with this number in the General Ledger detail. See the Vat Reconciliation column in the GL Detail.
After selecting the Click To Capture Data button, an Adjustment Journal will be created and if everything is to your satisfaction then you can select the Post button on the menu. See example below for the journal entries that will be made. In short, your VAT input and output figures will be transferred to your VAT Control. When you pay your Tax the contra account will be your VAT Control and should be zero after posting your tax payment.

To reverse the captured data, use the Delete Button. Remember, the journal that was made during the Capture will not be reversed this must be done by hand - see corrections
For setting up your tax system go to Tax Setup
Choosing your country for VAT / GST purposes go to Tax Setup