Go to Company > Add or Edit Branches
Watch the tutorial https://www.youtube.com/watch?v=7-oKUnmFcVE
Hover the mouse over the different menu options. If the cursor changes to a hand (

), then click to go to the subject.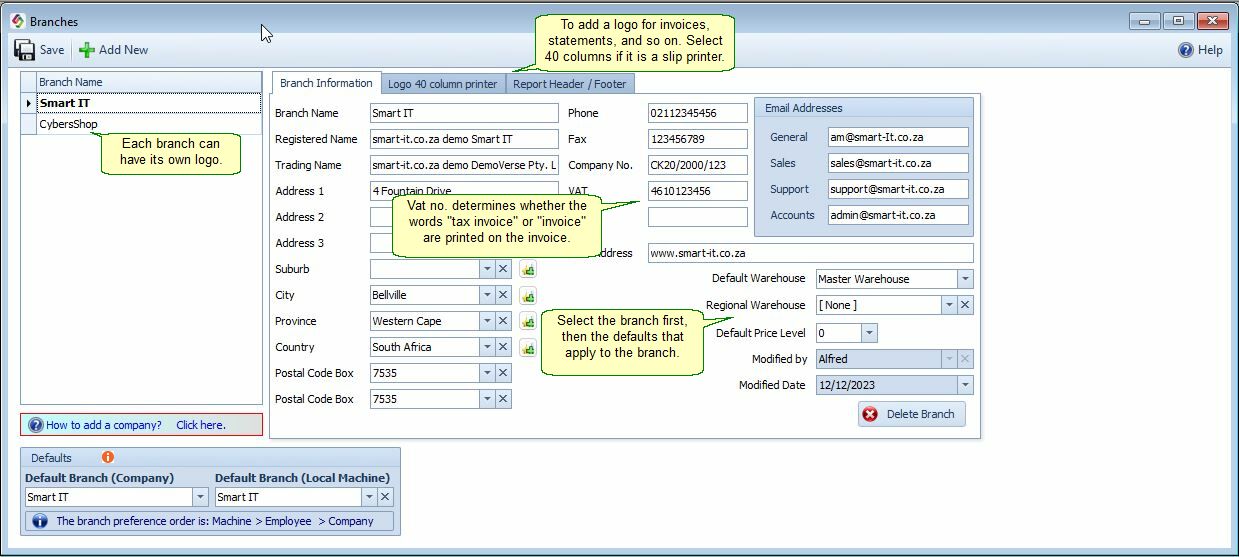 To add a logo for invoices, slip printers, report headers, report footers, etc. click on the Logo / Slip Report Header or Report Header / Footer, next to Company Information.
See Client of Branch how to use specific branch information on a specific customer statement, invoice etc.
VAT No. determines whether the words Tax Invoice or Invoice are printed on an invoice. (Print a Tax Invoice)
Default Branch.
Select the Branch you want to post to by default. You can print separate income statements and trial balances for each branch or you can print combined statements for all branches. Each computer can have a different Default Branch.
You can also specify a default branch per employee. Go to Employees > Add / Edit Employees.
To automatically use the Active Employees branch when adding new customers, set it in the form Customer Options > New Defaults