To start – Double click the Smart-It icon located on your desktop.

The following screen will open.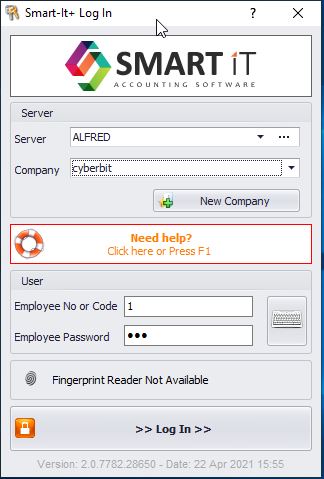 To open the demo program, click Log In. This will allow you to experiment/browse within the demo version before setting up your company.
or on the drop down select the company's database you wish to open and or work in.
Default password is 123 and will remain as this till such time that you change your password to suite your needs - this is done under the Employees menu.
Please remember that on each form you will have a help button, which when selected will open the help folder for that specific form/function.
If you want to create a new company, click on the "New Company button".
Setup your ...




General Ledger (GL) accounts

Go to Ledger > Account Setup (this is where you can add new accounts, e.g. expense accounts like salaries etc.)

Please note that the program has a predefined set of accounts, which normally is sufficient for most companies.

To change the account defaults go to Ledger > Account Options and select the Account Defaults tab. Normally you don't need to change the account defaults.

To import your ledger accounts go to Ledger >Account Setup and select the Extra tab.

Stock Groups

Go to Stock Items > Stock Groups.

Each stock item will be associated with a stock group.

If you sell an item the Stock Group will determine to which sales and cost of sales account it will be posted to

Add all Employees

Go to Employee > Add Employee.

Associate each employee with a security group and give each a password.

Add all Customers

Go to Customer > New Customer

You can also import all your customers. Go to Customer > Extra > Customer Import from CSV

You can export your Microsoft Outlook contacts to a CSV file and then import them into SI+

To enter the opening balances go to Customer > Customer Journals. Obtain the required balances. If you need to enter aged balances, obtain balances for each aging period you use. When you enter the opening balances, the GL account you must select is the Controls > Customer Opening Balances account or whatever your accountant may have created or suggested for this purpose.

Add all Suppliers

Go to Supplier > Lookup & Reconciliation and click on the Add Supplier button.

To enter the opening balances go to Supplier > Supplier Journals. Obtain the required balances. If you need to enter aged balances, obtain balances for each aging period you use. When you enter the opening balances, the GL account you must select is the Controls | Supplier Opening Balances account or whatever your accountant may have created or suggested for this purpose.

Add all Stock Items

Go to Stock Items > Stock Lookup and click on the Add New Stock button.

You can also import all your stock items. Go to Stock > Stock Extra and click on the Stock & Price List Import.

After adding / importing all your stock items you can go to Stock Items > Stock Take and import all your stock quantities.

Setup Point of Sale

Go to Invoice > Invoice options

Also type the message that must display on the invoice here.

Company information
| | |
| --- | --- |
| Messages | Messages you want to display on your invoices, statements, job cards etc. |
| Invoice Message | |
| Quote Message | |
| Job Card Message | |
| Customer Statements | |
| | |
| --- | --- |
| | Post all opening balances |
| Customers at | |
| Suppliers at | |
| Trial balance at | |
| Stock and Cost Prices at | |
Tax System
Select your tax system under Ledger > Tax Setup