Download instructions.
1. Go to www.smart-it.co.za/download to download the program. if you get an option to Run the file do so, otherwise double click on the file after it has downloaded.
2. Some antivirus programs may block or prevent proper installation of the program. this is not because our program is dangerous but because of the way aintivirus programs work. If the program does not work after installation try disabling the antivirus/firewall program and reinstalling. Should you need assistance installing the program you can Contact Us.
3. During installation, you will be asked to choose between Stand alone / Server or Frontend Only. If this is the first computer you are installing Si+ on choose Stand alone/server. To install on another computer choose Frontend Only.
4. The rest of the steps are easy just click on Next and Finish.
5. When the program has finished installing you will see the following icons on the desktop.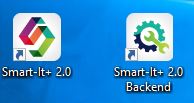 6. Start the program by double clicking on Smart iT 2.0 (frontend) icon

New Company
If you want to start using the program for real and enter actual data you need to create a new company database separate from the demo.
1. Start the program by double clicking on Smart iT 2.0 icon.
2. Click the New Company button on the login screen.
Hover the mouse over the different menu options. If the cursor changes to a hand (

), then click to go to the subject.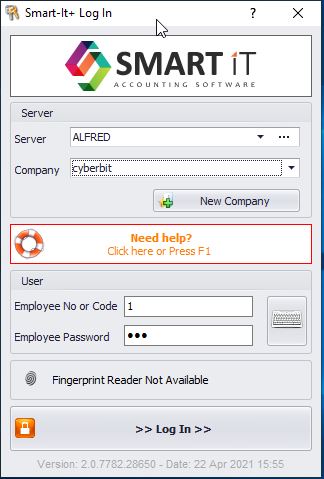 See also the Quick Start chapter on how to get started.
You can also start the program by clicking on the Start button on the task bar, and look for the Smart-It+ 2.0 folder.
See image below for all the options.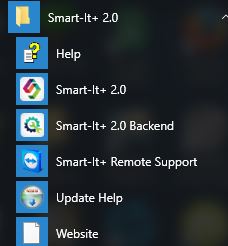 If you wish to uninstall Smart-it in Windows 10, you would need to do this in the control panel, programs. Your data won't be affected, as this is stored on your C: drive.